Fighting the Climate Crisis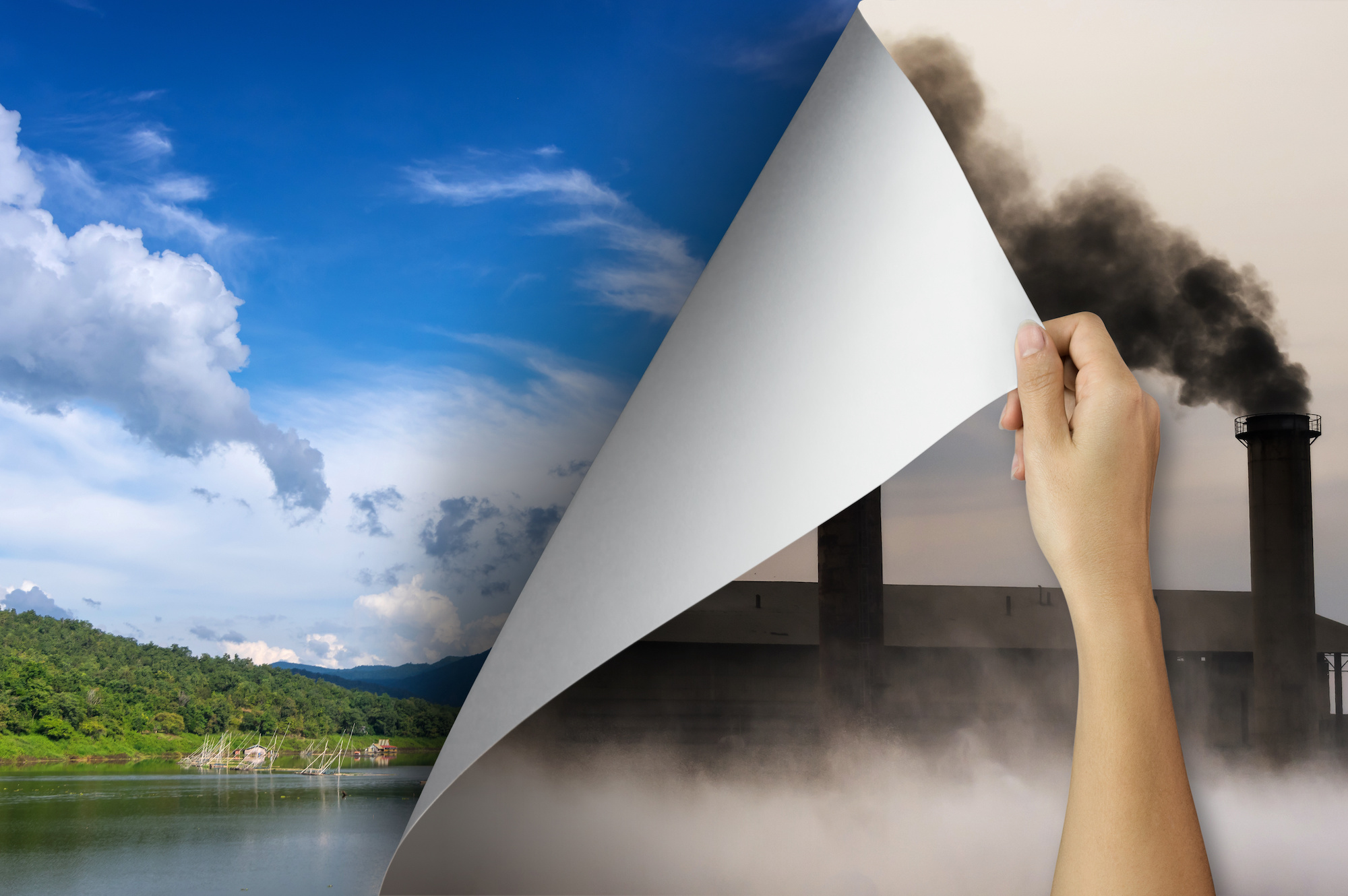 The average temperature on Earth has risen by 1.1°C over compared to the average temperature from 1850-1900, according to the Intergovernmental Panel on Climate Change (IPCC). This could lead to catastrophic shifts in climate and weather. In fact, we just experienced the hottest summer on record — again! While climate change is no doubt one of the most debated topics today — whether it be among researchers, politicians, or private citizens — the bottom line is that climate change is real and cannot be ignored. The time has come for Alabamians who care about environmental health and climate justice to come together and address this urgent challenge head on.
As of 2016, 38 percent of electricity generated in Alabama comes from coal — compared with about 33 percent nationwide. However, the state's largest utility, Alabama Power, generates approximately 50 percent of its electricity from coal, well above the national and state average. In fact, John Kelley of Alabama Power in May 2016 told The Birmingham News, "we expect coal to remain a significant part of our diverse supply of energy sources for many years to come."
Meanwhile, the Alabama Public Service Commission, the agency tasked with regulating the utility, is obstinately pro-fossil fuel and denies the very existence of climate change. Commissioner Chip Beeker, for instance, proudly wrote on his campaign website, "I believe that […] the so-called 'climate change crisis' is about as real as unicorns and little green men from Mars." Alabama Attorney General Luther Strange consistently opposes every EPA action and joined several other state attorneys general in suing the federal government to block the Clean Power Plan.
It is time for Alabamians who care about our health, our environment, and our children's futures to rise up and demand real solutions to climate change. We must break the shameful cycle of reactionary thinking that has permeated so much of our state's social and economic fabric.
What is Healthy Energy?
Before we answer that, let's acknowledge the obvious: dirty energy like that generated from fossil fuels is a major cause of air pollution. The extraction, transport, and burning of coal, oil, and gas contributes to environmental degradation, including emission of criteria air pollutants, air toxics, and greenhouse gases. In fact, the use of fossil fuels to generate electricity and power vehicles accounted for more than half of all greenhouse gas emissions in the United States in 2016. GASP believes that a transition away from dirty fossil fuels towards clean, renewable energy — or healthy energy — is vital for a just and equitable Alabama.
Our Definition
Healthy energy is that which:
does little to no harm to human health or the environment;
is replenished naturally as quickly as it is used;
is derived from natural sources (e.g., solar, geophysical or biological)

POTENTIAL IMPACTS IN ALABAMA
According to the Alabama Report Card published by "States at Risk":
⚠️ "There is no evidence that [Alabama] has published information acknowledging or assessing its climate vulnerabilities."
⚠️ "Alabama has taken no action to plan for its future climate risks or implement adaptation strategies."
⚠️ Alabama has failed to dedicate any "state funding, policies, or guidelines to improve resilience against climate change-related extreme heat, drought, wildfire, or coastal flooding."
⚠️ "Alabama has taken less action than any other coastal state to prepare for sea level rise and both its current and future coastal flooding risks."
⚠️ The Birmingham-Hoover metro area is among the nation's top 15 metro areas that will experience negative economic effects from increased heat and extreme weather events and other consequences. [Source: BirminghamWatch.org]
In other words, Alabamians are woefully uninformed by its government and its policies are wholly inadequate to deal with the health and environmental impacts of impending climate change.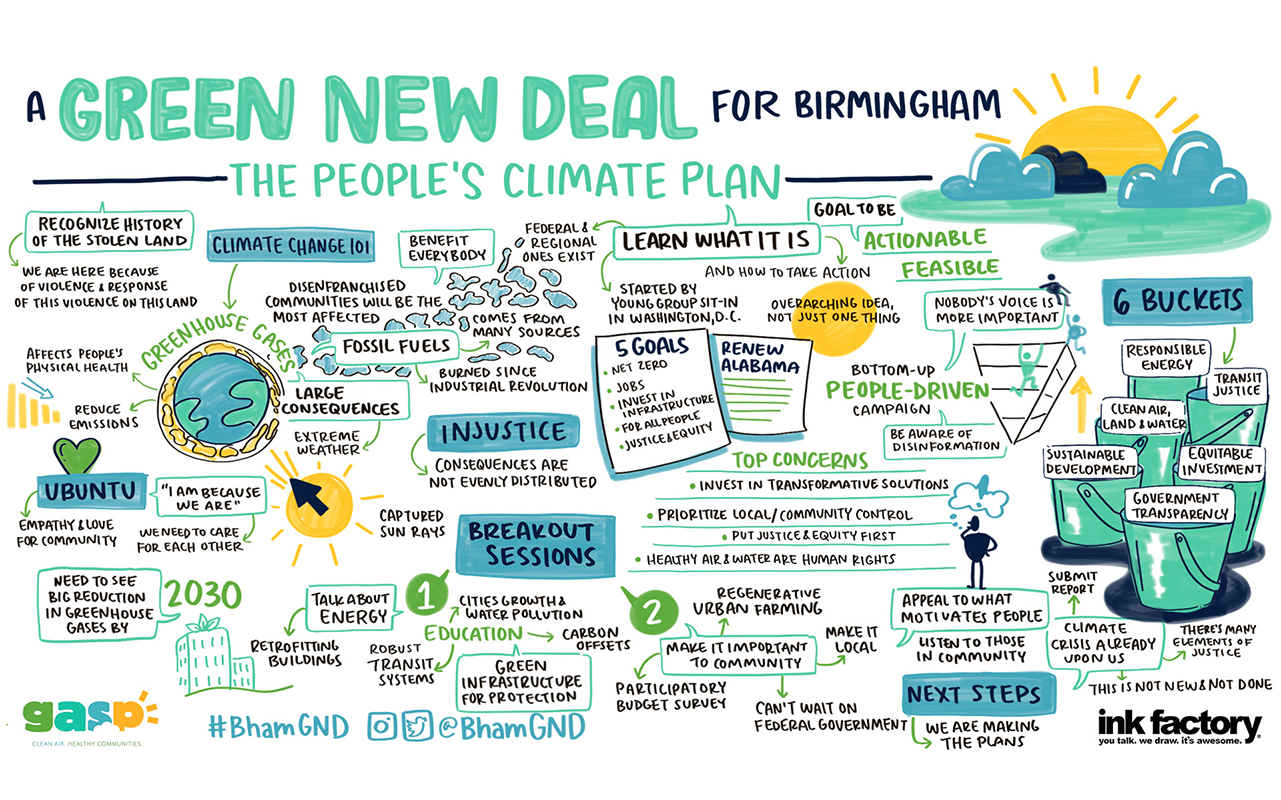 Green New Deal for Birmingham
The Green New Deal is not a monolithic piece of legislation. It's a vision for ending the climate crisis in a just and equitable way. We launched the Green New Deal for Birmingham (#BhamGND) on April 20, 2021 with the goal of developing a climate action plan written by and for the people of Birmingham. The campaign is divided into six areas: 1) clean air, land and water; 2) responsible energy; 3) transit justice; 4) equitable investments in community; and 6) sustainable development. Each of these buckets represent a committee that are co-chaired by community leaders.
Climate Justice, Y'all Podcast
Despite the South being the most biodiverse, diverse, and one of the largest economic engines in the world, we are underfunded and often barred from the decision-making table. So we decided to pull up a chair and amplify the stories of communities in the South hit the hardest by the climate crisis. We're lifting up and centering the climate and environmental justice movement in the South. Using good ol' fashion storytelling, we shine a spotlight Southern leaders from all walks of life putting in their blood, sweat, and tears to transform the region.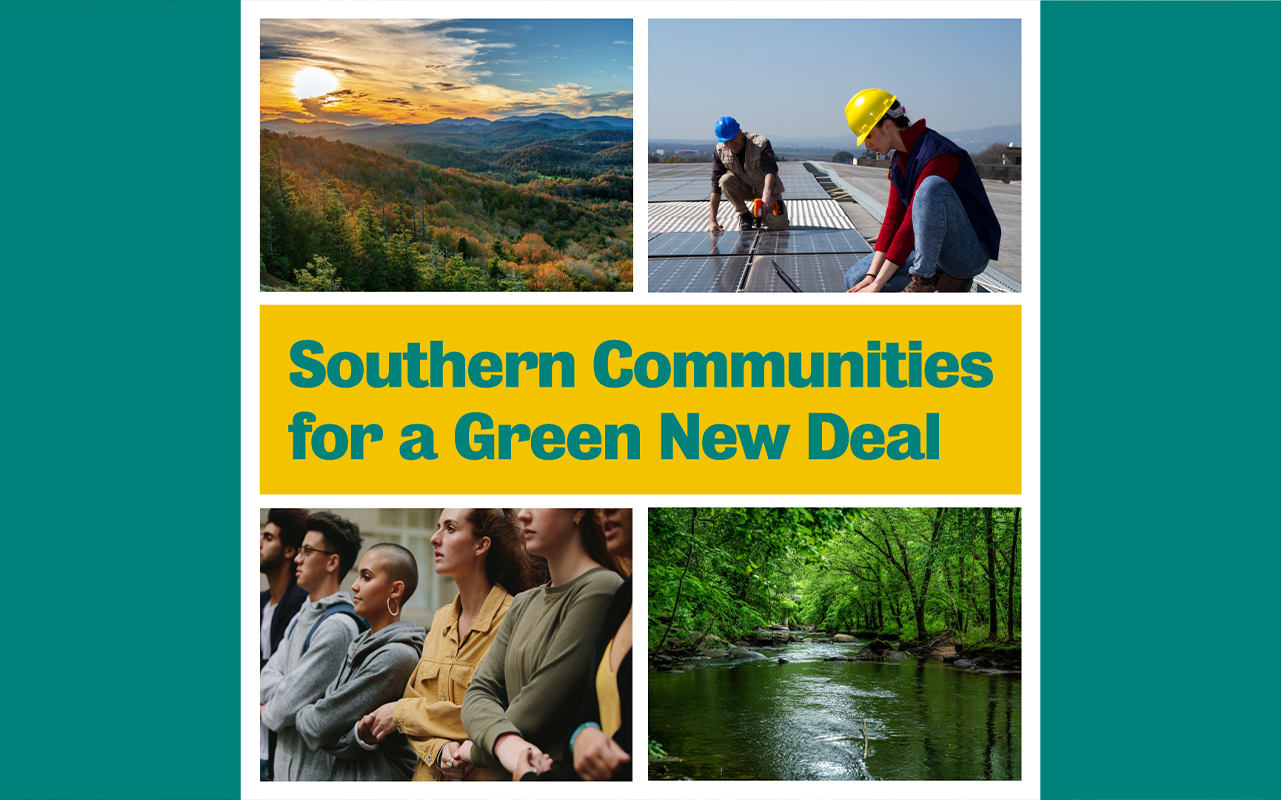 Southern Communities for a Green New Deal
Southern Communities for a Green New Deal is a vision for a just, equitable, clean, healthy, and thriving South. Its demands take into account the unique realities of the South. This platform is the product of a bottom-up, community-based approach to building alignment around shared vision, values, and goals.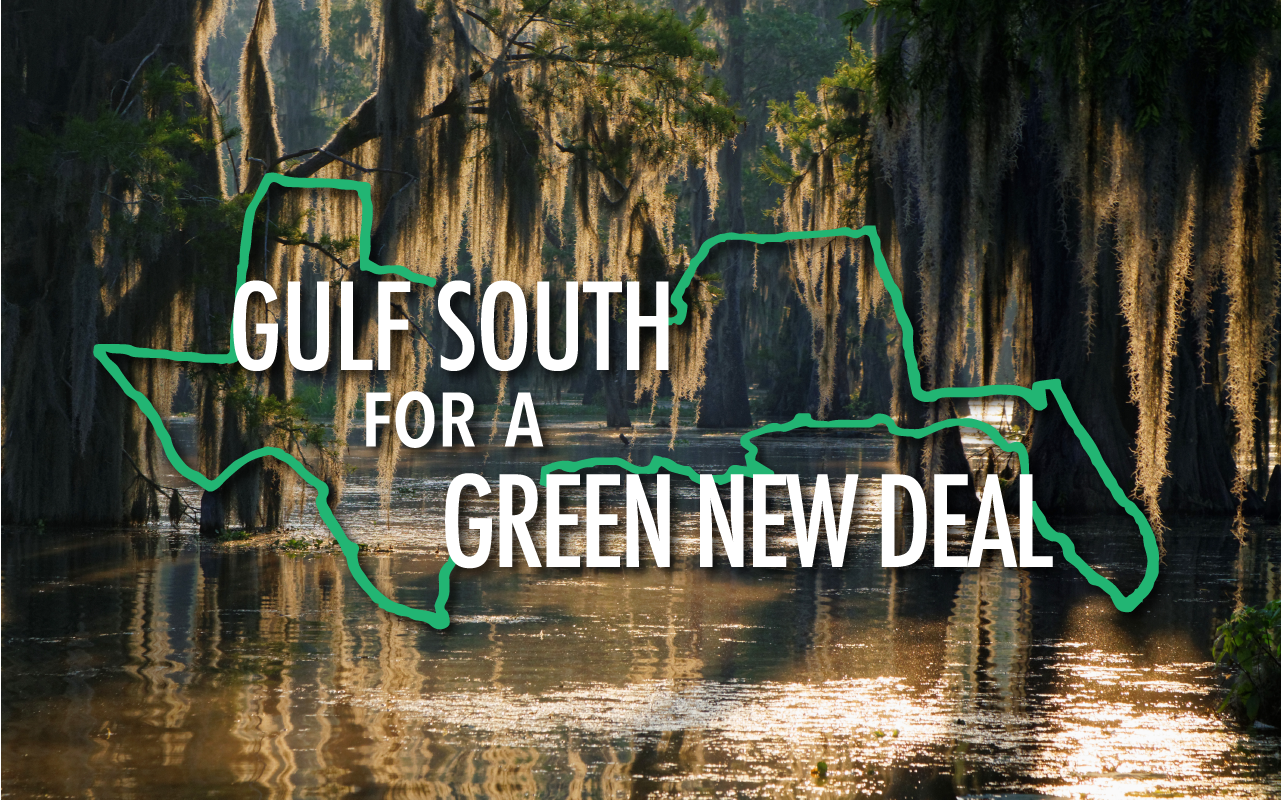 Gulf South for a Green New Deal
Gulf South for a Green New Deal (#GulfSouth4GND) is a regional formation of more than 225 organizations advancing long-existing work towards climate, racial, and economic justice in five states across the Gulf South: Texas, Louisiana, Mississippi, Alabama, and Florida. GASP has the privilege of anchoring the Alabama Hub.

Solar for All Alabamians
Sign this petition to show you support solar for all Alabamians. We'll let you know about further actions you can take to let our leaders know that Alabama citizens should have more choice and lower costs when it comes to solar.
Declare a Climate Emergency
We are calling on the State of Alabama and each of its major cities to declare a Climate Emergency that states in plain language that climate change threatens the people and places we love in Alabama and across the world. Furthermore, the Declaration should call for a swift expansion of clean energy generation like wind and solar with an explicit goal of achieving 100% renewable by 2030.