The Alabama Public Service Commission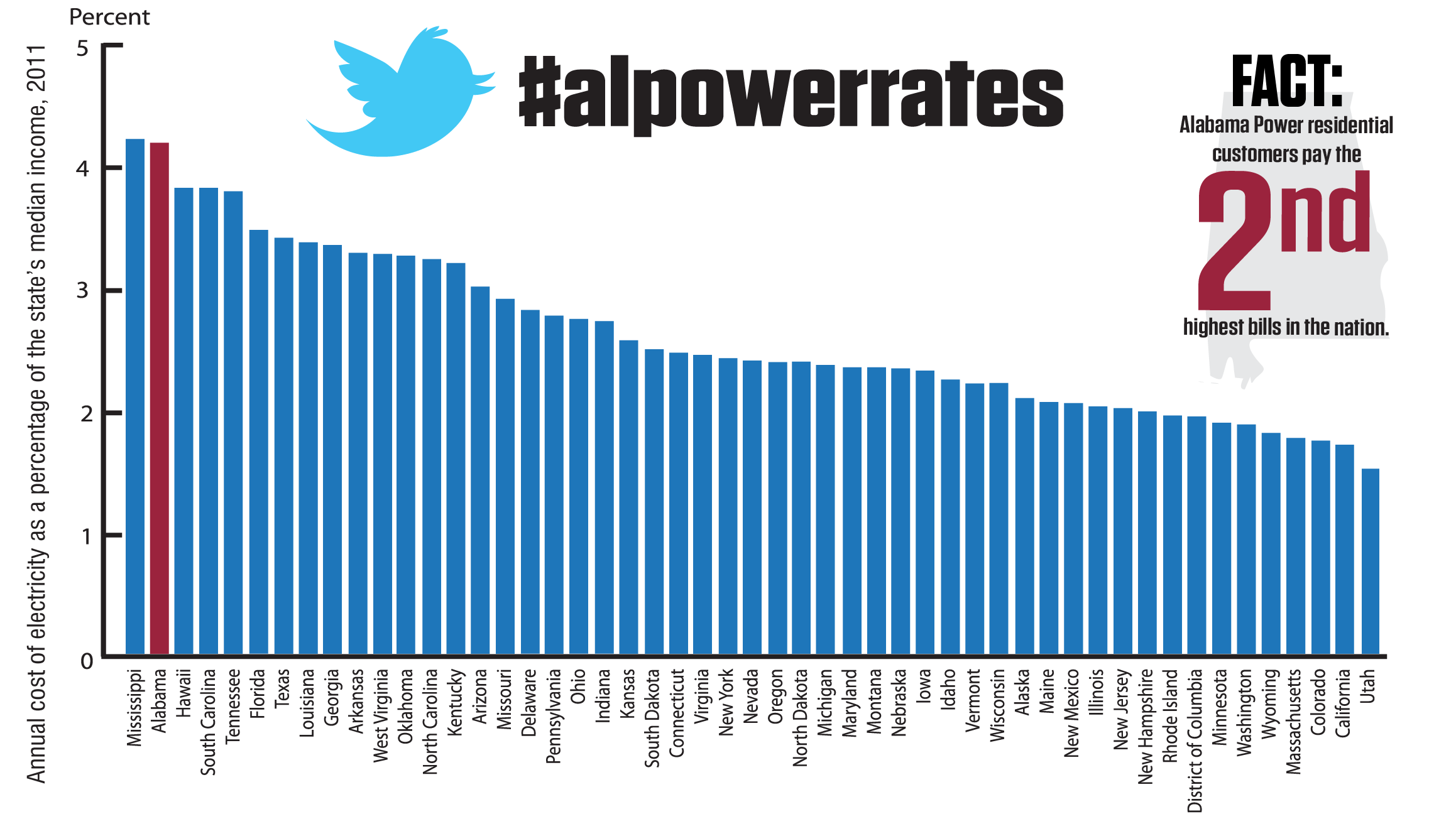 2013 Alabama Power Rates Fact Sheet
Alabama Power customers pay the second highest electricity bills in the nation as a share of income and the second highest rates in the Southeast among comparable utilities according to expert analysis. This year, the Alabama Public Service Commission held a series of "informal meetings" about the company's electricity rates. Utility experts testified at the final meeting, objecting to the PSC's continued endorsement of the RSE mechanism that allows Alabama Power to rake in an abnormally high profit margin while its customers pay some of the highest bills in the nation.
The meetings were widely panned by the general public and the media as a dog-and-pony show and a power company PR campaign. (Be sure not to miss this excellent editorial from al.com's Mike Marshall about the second meeting and John Archibald's scathing review of the process.) Commissioner Terry Dunn sided with the public, saying, "Allowing the public to attend the informal hearings didn't make the process transparent; it just gave them a front-row seat for the creation of a smokescreen."
Nevertheless, the PSC chose to move forward with a plan that clouds how rates are set and actually may allow Alabama Power to increase its profits. The plan switches from the decades-long "rate stabilization and equalization" (RSE) formula to a new calculation called "weighted cost of equity" (WCE). Expert analysis found that not only won't this new method lower power bills or electricity rates, but it opens the door for the power company to manipulate the formula to actually increase profits. Alabama Power itself confessed that the new formula "will not result in any immediate reduction in customer bills," putting to rest claims to the contrary.
Earlier this year a report released by Arise Citizens' Policy Project revealed that Alabama Power is earning a return on equity (ROE) 30 to 40 percent higher than the national average and yet Alabama Power's residential customers pay the second highest bills in the nation behind only Mississippi. This unfair "tax" on Alabama's citizens is just one way in which monopolies like Alabama Power lack critical oversight by our state government. Click here to download our fact sheet.
Households getting electricity from Alabama Power Co. are using 6% less than five years ago. But their monthly power bills still have increased by an average of 8%, partly because of a lucrative rate agreement that the utility brokered with state regulators 30 years ago. The deal allows Alabama Power, the state's largest electric utility, to adjust its rates annually to maintain a return on equity, a measure of profit, of 13% to 14.5%. Now it is coming under fire from consumer advocates and one state utility commissioner, who argue that the utility's profit levels are too high.