The Alabama Department of Public Health issues fish advisories for contaminants like methylmercury and PCBs — which are toxins hazardous to human health. ADPH also makes recommendations about portion size and frequency of fish consumed in specific waterbodies.
When our friends at Coosa Riverkeeper interviewed more than 125+ fishers, they found some startling results. Nearly half of the Coosa fishers didn't know about the 34 fish advisories ADPH issues last year for polychlorinated biphynels (PCBs) and methylmercury — or how exposure to those pollutants affect their health.
In response, Coosa Riverkeeper released its new Fish Guide this week, which now includes a toll-free hotline that fishers can dial to find out about fish advisories throughout the state. Fishers can call 1-844-219-RISK and follow the prompts to hear advisories in their watershed.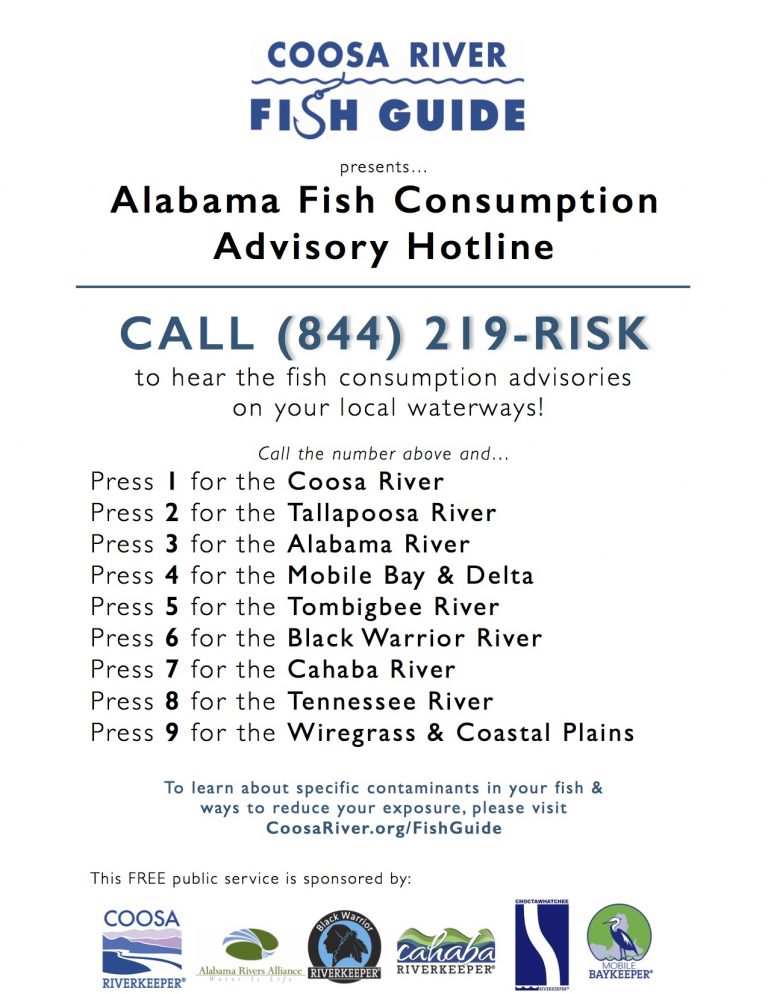 Mercury is a potent neurotoxin that is emitted from coal-fired power plants like Alabama Power's Gaston Plant located on the Coosa River in Wilsonville, Ala. It is converted by organisms in nearby water sources like streams and rivers into methylmercury, which is absorbed by fish. Infants and children under the age of 14 are the most at-risk. Women who are nursing, pregnant, or plan to become pregnant are also especially vulnerable.
"We saw a need for a better way to alert citizens of these advisories and were excited to tackle the challenge," Executive Director Justinn Overton said. "We are confident our new toll-free hotline will be make these advisories more accessible and easier to understand for the hundreds of subsistence fishermen throughout the Coosa River and the entire state."
In addition to the new hotline, Coosa Riverkeeper has also developed an interactive map with advisories as well as popular fishing locations along the Coosa. They also created two videos to compliment the Fish Guide. One demonstrates how to properly filet a fish — very useful info for folks like me who love to cook fresh food! The other video shows alternative cooking methods that help reduce exposure to the toxins found in these fish.
We urge you to use this resource from Coosa Riverkeeper and support their work! Air pollution does not happen in a vacuum — what goes up in the air can end up contaminating our soil, our water, and our food supply (like fish). That's why we work so closely with local water groups. We're all in this together!