Legal Petition: TVA Violating Customers' Rights by Giving Millions to Dirty Energy Lobbyists
Contact: Howard Crystal, (202) 809-6926, [email protected]
WASHINGTON, D.C. — The Center for Biological Diversity and other organizations petitioned the Tennessee Valley Authority today to stop giving millions of dollars in ratepayer money to anti-environmental advocacy groups like the Edison Electric Institute and Energy and Wildlife Action Coalition.
Today's rulemaking petition, filed under the Administrative Procedures Act, notes that these groups litigate and lobby to deny protections to imperiled wildlife, delay the critical transition to clean energy and hamper efforts to combat climate change. TVA is violating its customers' First Amendment rights by compelling them to fund this work against the interest of Tennessee Valley communities, the petitioners say.
"TVA claims to care about our climate, but it's giving millions in ratepayer money to lobby groups fighting the crucial transition to clean energy," said Howard Crystal, legal director at the Center's Energy Justice Program. "There's a desperate need to support clean power and the energy needs of low-income customers. Instead TVA is dumping big bucks into organizations that undermine protections for our climate and the air we breathe."
TVA spends millions of dollars supporting groups engaged in controversial political advocacy. The agency pays more than $500,000 a year to Edison Electric, which has fought to roll back state incentives for rooftop solar. TVA has also paid more than $7 million to the Utility Air Regulatory Group, which has been involved in a large number of lawsuits challenging federal clean air rules.
Although TVA claims it pays these groups for other services, in 2018 the Supreme Court ruled that the First Amendment protects against compelled payments to unions due to their political activities, regardless of the specific use of those payments. Similarly, today's petition notes, TVA ratepayers may not be forced through their electricity rates to fund these groups at all.
TVA also donates millions of dollars of ratepayer funds to charitable organizations. Today's petition also calls on TVA to allow its customers to make their own decisions on where to devote their charitable dollars.
"TVA should immediately stop giving their customers' money to special interest lobbyists to promote backward-looking energy policies," said Glen Brand, vice president of policy and advocacy for Solar United Neighbors. "Forcing ratepayers to finance policies counter to their own interests is simply wrong."
The petition asks TVA to issue new regulations that would proscribe these payments, and gives TVA 30 days to respond.
"TVA should stick to its mission instead of funding the fight against clean energy with ratepayers' money," said Michael Hansen, executive director of the Greater-Birmingham Alliance to Stop Pollution, or Gasp. "Transitioning to clean, renewable energy as quickly as possible in a just and equitable way will undoubtedly improve the quality of life for those who live, work and play in the valley."
TVA is a federally owned corporation and the nation's largest public power provider. It generates electricity for more than 9 million customers in Tennessee, northern Alabama, northeastern Mississippi, southwestern Kentucky, and portions of northern Georgia, western North Carolina and southwestern Virginia.
###
The Center for Biological Diversity is a national, nonprofit conservation organization with more than 1.7 million members and online activists dedicated to the protection of endangered species and wild places.
WATCH: ABC 33/40 Reports on Gasp Air Sampling Results
For years, residents have been complaining about air pollution coming from the Bluestone Coke plant in North Birmingham. (Prior to being named Bluestone Coke, it was called ERP Compliant Coke, and before that it was Walter Coke.) The plant heats coal at extremely high temperatures to produce metallurgical coke, which is then used to produce iron and steel. The facility is at the heart of EPA-designated 35th Avenue Superfund Site that includes Collegeville, Harriman Park, and Fairmont.
Gasp has been advocating for a stronger pollution permit (and better enforcement of it) for years. Bluestone's permit is expected to be up for renewal this spring. That's why last fall we partnered with the Center for Biological Diversity to collect air samples near the plant. Once we sent the samples to the lab, we joined forces with our friends at Center for Health, Environment & Justice to take a look at the results.
What we found was alarming, though not surprising to residents breathing the air every day. We found concentrations of naphthalene at up to 50 times the EPA's cancer risk level and concentrations of benzene up to 29 times the EPA's cancer risk level. Both naphthalene and benzene are common hazardous air pollutants associated with coke plant operations.
Naphthalene is classified by EPA as a possible human carcinogen. Exposure can cause chronic inflammation of the lungs and nasal inflammation, as well as headaches, nausea, and anemia.
Benzene is a known human carcinogen. Exposure to benzene can cause dizziness, headaches, eye, skin and respiratory tract irritation.
The Jefferson County Department of Health told ABC 33/40 that they're reviewing our test results. We plan to send the data and analysis to EPA to get their input as well. We're committed to continuing to keep an eye on pollution and take samples anywhere we believe it is putting human health at risk.
Concerned about air pollution in your community? Tell us about your experience.
Video Source: https://abc3340.com/news/abc-3340-news-iteam/environmental-groups-air-testing-finds-greater-cancer-risk-in-part-of-north-birmingham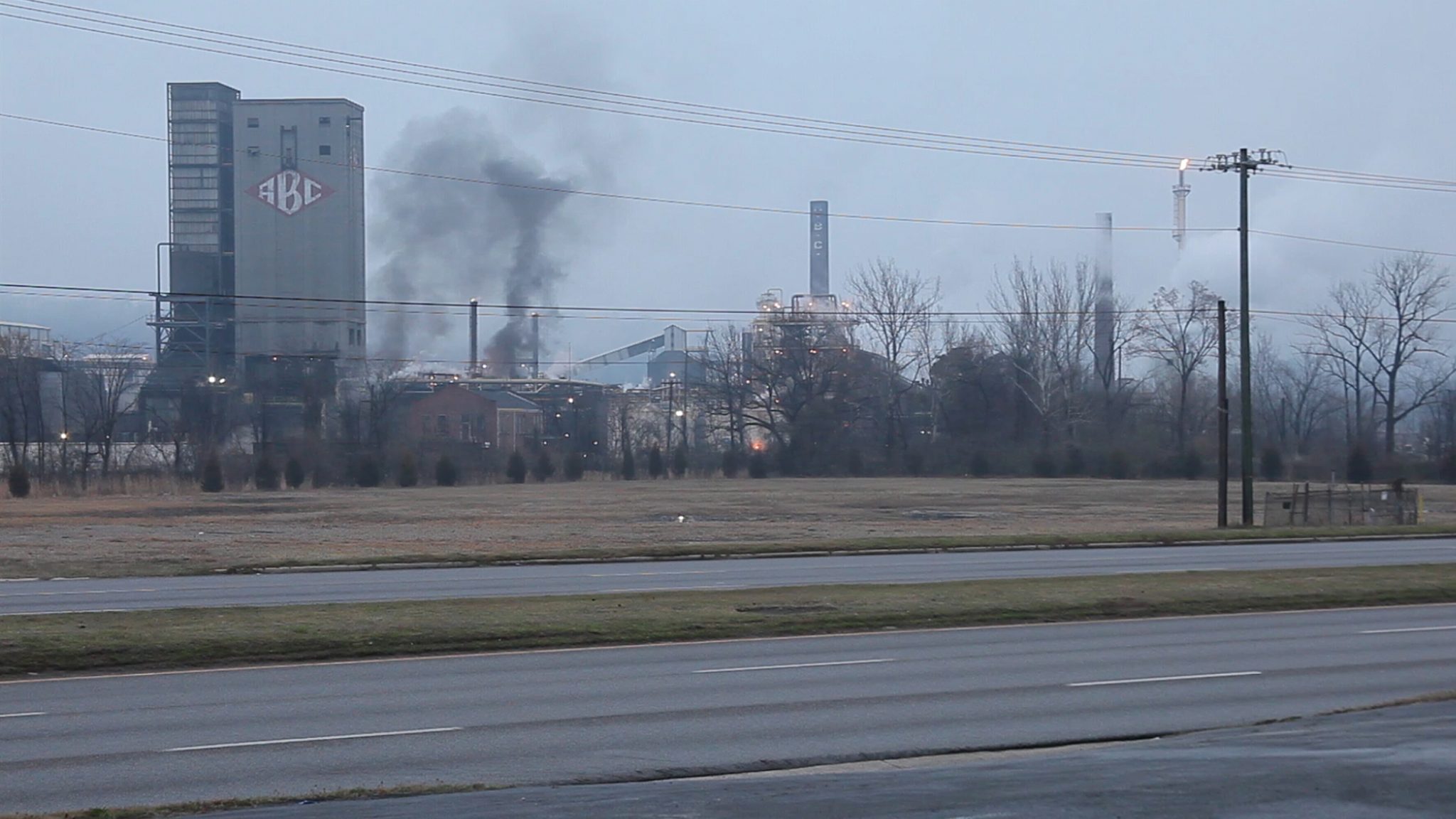 Alabama Groups File Motion to Intervene in ABC Coke Consent Decree
BIRMINGHAM, Ala.  (January 29, 2020) — Conservation groups have filed a motion to intervene in ongoing efforts to approve a proposed settlement to address ABC Coke's illegal emissions of benzene and the impacts on communities around northeast Birmingham and Tarrant, Ala., charging that the involved parties have failed to create a consent decree strong enough to ensure that the discharges are halted.
On behalf of Gasp, the Southern Environmental Law Center filed the motion and proposed complaint in the United States District Court for the Northern District of Alabama late yesterday in response to the lax terms set out by the consent decree agreed to by the Jefferson County Board of Health (JCBH) and the U.S. Environmental Protection Agency (EPA) with the Drummond Company. The members of the JCBH are tasked with governing the Jefferson County Department of Health (JCDH), which is responsible for regulating ABC Coke and its ongoing violations of benzene pollution, a known carcinogen.
Joining concerns expressed by local community members and elected officials, the groups claim the settlement, as written, lacks essential safeguards to ensure that the violations have stopped and hinders the public's ability to identify and enforce future violations.
In the proposed consent decree, JCDH has agreed to post Drummond's semiannual reports to its website verifying Drummond's progress. The groups contend that Drummond's self-reporting is not adequate and are urging the agencies to require an independent audit to assess what's been done to reach compliance.
"With ABC Coke's lengthy history of violations and a pattern of practice of hiding them, we continue to have significant concerns about the lack of transparency," said SELC Senior Attorney, Sarah Stokes. "We must hold Drummond, EPA, and the Jefferson County Department of Health accountable to a plan that results in a protective, permanent solution to this legacy of pollution—anything short of that is unacceptable."
Echoing comments submitted by Gasp and SELC last summer, the motion asks that Gasp be a party to the consent decree in order to be able to call for an increase in the penalty amount for violations, an independent audit of benzene levels, additional public reporting requirements, and for the JCDH to establish a trust fund for area residents which a third party with community-ties would administer.
"The families and workers who have been breathing ABC Coke's toxic and illegal pollution for close to a decade deserve better," said Gasp Executive Director, Michael Hansen. "Drummond should get more than a slap on the wrist. It's past time for the Health Department to work with impacted communities to ensure tangible steps are being taken to put their health and wellbeing ahead of Drummond's bottom line."
Under the proposed consent decree filed in February 2019, Drummond agreed to pay $775,000 in penalties, with $387,500 going to JCBH and to EPA respectively. The consent decree also requires Drummond to take steps to stop the unlawful emissions, more than eight years after inspectors discovered that the plant was emitting excess amounts of benzene.
The JCDH recently renewed ABC Coke's Title V permit despite numerous objections from local communities and elected officials, and without addressing the benzene violations that are the subject of the consent decree. On behalf of GASP, SELC petitioned EPA to object to the permit in June 2019. EPA has not yet made a decision whether or not to object to the permit.
For more information, contact Emily Driscoll at the Southern Environmental Law Center ([email protected], 678-686-8482) or Michael Hansen at Gasp ([email protected], 205-701-4270).
###
About Gasp
Gasp is a nonprofit health advocacy organization based in Birmingham, Ala. Our mission is to advance healthy air and environmental justice in the greater-Birmingham area through education, advocacy and collaboration. We strive to reduce exposure to air pollution, educate the public on the health risks associated with poor air quality, and encourage community leaders to serve as role model by advocating for clean air and clean energy. gaspgroup.org
About Southern Environmental Law Center
For more than 30 years, the Southern Environmental Law Center has used the power of the law to champion the environment of the Southeast. With over 80 attorneys and nine offices across the region, SELC is widely recognized as the Southeast's foremost environmental organization and regional leader. SELC works on a full range of environmental issues to protect our natural resources and the health and well-being of all the people in our region. southernenvironment.org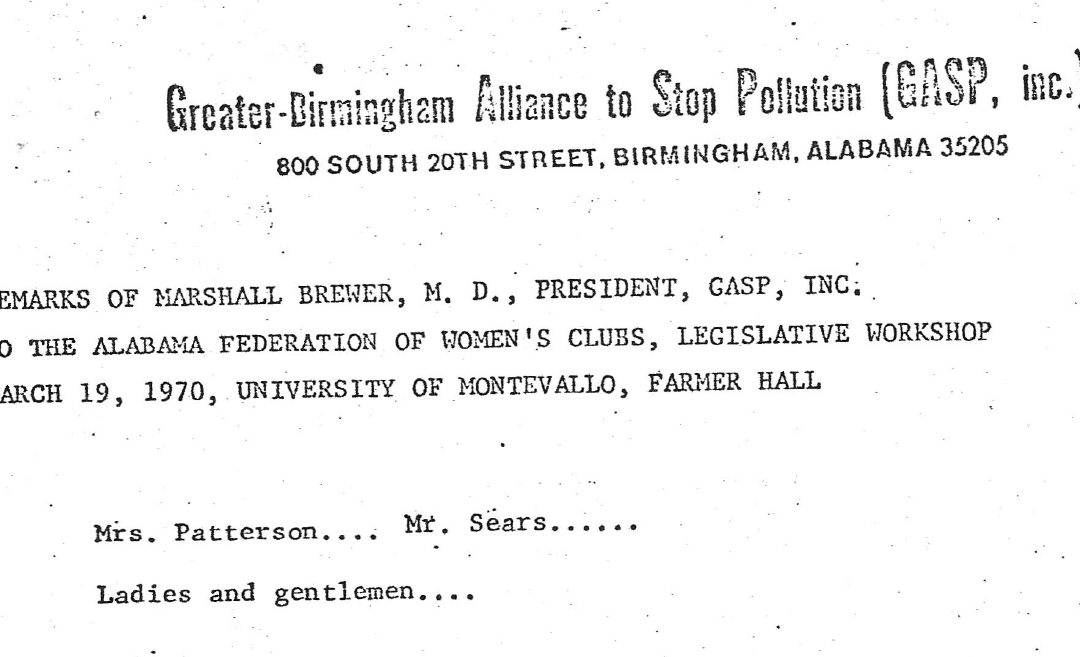 On March 19, 1970, Dr. Marshall Brewer Gave this Stirring Speech
The modern iteration of Gasp celebrates its 10-year anniversary this year. We are also celebrating the 50th anniversary of our namesake organization, the Greater-Birmingham Alliance to Stop Pollution, and the signing of the federal Clean Air Act this year. As such, we will be sharing "blasts from the past" to connect our present and our future with where we have been.
The following is the transcript of a stirring speech given on March 19, 1970 by  Marshall Brewer, M.D., who was the president of the brand new Greater-Birmingham Alliance to Stop Pollution (GASP). The remarks were delivered to the Alabama Federation of Women's Clubs at the University of Montevallo. 
---
Mrs. Patterson, Mr. Sears, Ladies and Gentlemen:
I'm flattered and grateful for this opportunity to appear before you today. Flattered because I'm merely a resident in training at the University of Alabama sitting among such distinguished guests as you have here; and grateful that whatever waves we are making at GASP in air pollution control have been acknowledged by your kind invitation to speak here today.
You may have wondered what a resident in surgery, who is supposed to be working 80 to 100 hours a week taking care of sick folk at the hospital, is doing in air pollution. And believe me some of the attending surgeons at the hospital are wondering the same thing.
Well, this is my sixth year of medical training. I'm learning how to open up a chest, how to spread apart ribs without breaking them, how to cut out parts of destroyed and useless lungs that contain emphysema and bronchiectasis, how to take out whole lungs and all the surrounding tissue that contains a big growing cancer. I have also learned that for every hundred patients I see with lung cancer that 94 of them will be dead within five years—no matter what I do for them. And I wonder how many hundred patients Dr. Russakoff has watched die a horrible death from emphysema—gasping for very last breath because there was nothing more that could be done. Nobody yet has ever been able to successfully transplant a lung. And I've come to realize that by the time you get a lung cancer or progressive emphysema—school is just about out.
So it occurred to me one night, when I was sitting up with a man dying with lung disease, that maybe I should spend some time trying to help people keep from getting the disease in the first place. Well, that's nice, you might say—but is dirty air really. a health hazard?
This is a serious question because a lot of people are going to tell you this thin little haze in the atmosphere is merely an aesthetic problem—and that all those particles are inert and really quite harmless.
In Donora, Pennsylvania in 1948 an inversion layer held all of those harmless inert particles and gases down in a tight blanket, covering the entire town for 4 days. 40% of the people got sick and 20 of them died.
In 1963 the same thing happened in New York and 400 people died.
In London, England, 4000 people died during a 4 day stretch of polluted air.
From all other parts of the country, evidence from research is mounting every month to show that polluted air goes hand in hand with increased incidence and suffering from chronic, debilitating, and often fatal lung diseases.
Absolute proof is very difficult to get and may be well impossible. Let me remind you that we don't have absolute proof that cigarettes cause lung cancer even though a million smokers have dies from it—and 50,000 more smokers will die from it this year. How many thousand bodies will we have to count before we decide to act on air pollution?
In spite of the respiratory tract's inability to cope with today's air pollution, it is still a marvel of filtering efficiency.
The number of people ill with respiratory illnesses runs into the millions, and the cost of this modern-day peril runs into billions of dollars— to say nohing of the cost in terms of human suffering.
But, aside from the health hazard, let's look at what air pollution does to your property. Air pollution damages crops, corrodes metal, weakens fabrics, discolors paint, etches glass, cracks rubber, and spreads its filth over everything. The National. Air Pollution Control Administration has estimated that property damage as a result of air pollution costs some 10 to 12 billion dollars every year. That figures out to about $300 for the average family every year probably costs more in places like Birmingham.
But people are going to stand up and tell you "control of air pollution is a long and difficult task; We must not push industry too hard or they will have to close their plants and move away, and thousands of people will be out of jobs."
This, of course, is not true. Industries in other states, the same industries owned by the same people as here in Alabama, have cleaned up their effluent when the laws were changed so that everyone had to do it. And these industries have continued to grow and prosper.
But don't take my word for it. Listen to what the man who represents all these people who would be out of a job has to say. Listen to what I. W. Abel, President of the United Steelworkers of America, said to a conference of steelworkers one year ago:
"There is no longer any doubt that air pollution is a hazard to health. Citizens and workers should not give up the fight because it may be said that to have industry and jobs means we must have pollution. Pollution can be controlled. It is not an academic or idealistic goal. It is a practical, obtainable objective well within the realms of reasonable technology and economic cost. There need not be any practical conflict between action to insure the protection of public health and welfare and the economic growth of a particular industry or plant. While the security of our jobs is not the price which will be paid for aggressive abatement activity, the ruination of our health may well be the risk which will be taken for the lack of action"
Now I would like to tell you a little bit about the Greater-Birmingham Alliance to Stop Pollution (GASP). We are a rapidly expanding group of concerned young people. Some of us are professional people. Some of us are students in.the local college and high school campuses—and we have an advisory board of 13 prominent medical, business and civic leaders.
We all have one thing in connnon. We want a better environment for ourselves and for our children. And we're working hard in our spare time to clean up our city. And, despite the fact that some of us are young and a few even wear their hair a little too long, we're responsible!
Our ideas and objectives are matured. And we're doing the right thing. We're digging up the facts and we are making them available to groups such as yours. We want you to have the facts so that you can decide for yourselves what kind of air you want to breathe.
April 22 is going to be Environment Day across tbe country. We're going to organize educational programs on every college campus in Jefferson County—and in many of the high schools.
We' re going to talk about air pollution just like we're doing here today. And we're going to talk about what needs to be done about it.
But air pollution is just part of the massive threat that faces all our natural resources all across the country, and
all across the world.
We're going to talk about the hazards that threaten our fresh water, our woods, our wildlife, and the scenic beauty of our state. For example, do you know that the concentration of DDT in American women's breast milk is 3 to S times higher than the margin allowable in cow's milk?
We're not going to throw rocks or defy authority; but, we are going to do what every responsible citizen ought to do and what the President has advised groups such as ours to do:
LEARN THE FACTS AND DO OUR PART TO CLEAN UP THIS MESS!
In addition, we at GASP are going to work closely with the Alabama Clean Air Committee and the Alabama Tuberculosis Association in informing our citizens about the Federal Air Hearings. We're going to turn out hundreds of informed people for these hearings so that our elected officials will know that the people of this state want clean air.
Now, what can you ladies do?
You ladies represent 50,000 women in the State of Alabama and over 100,000 children who will inherit our state in no better and no worse condition than we leave it.
One thing is easy for me to say: Send money to GASP. We certainly need it. We're running an office with two full time employees and dozens of part-time volunteers and our continued existence will depend upon the generosity of folk like you who realize that our fight for clean air is your fight. And any contribution made to us is tax-deductible.
What else can you do?
Well, if I can quote Dr. John Middleton, Commissioner of the National Air Pollution Control Administration, an expert on air pollution. He says:
"Don't leave it all to the experts. Find out about the harmful effects of pollution on your mom and your family's health and welfare. Find out about the ways to prevent and control air pollution today and tomorrow. Force the experts to put things in their proper perspective. There is no time to spare. There is no time for a leisurely effort. But there is still time for an orderly attack on the problem—provided we ACT NOW."
And as a first source of information about the problem, may I suggest this book: The Environmental Handbook. It is a collection of essays and facts about the problems, representing a broad spectrum of ideas and thinking. I've brought 200 copies with me and I really don't want to take any of them back.
Another thing you can do: Find out who's running for office in your district. Take a good look at their platform…and a good at look at how they voted. Ask them to speak to your group about their plans for cleaning up the environment. And remember. The present legislators have given you an air pollution bill that one member of the Governor's Commission has called a farce and a license to pollute.
GASP, in cooperation with approximately 75 other groups across the State, is co-sponsoring a questionnaire which will be sent by registered mail to every candidate running for office in Alabama.
A special GASP committee is going to make out a report card on each of these candidates for office—and we will be happy to make the answers of your candidate and their report card available to you by mail—if our funds permit. You might even want to get it published in the local paper.
The Quest for a Quality Environment is going to be the major issue confronting our society for the rest of this century. We are just seeing the beginning of the problems which we have gotten ourselves into.
One United States Senator has said:
"More than any other public problem with which I am familiar, the threat to our natural environment poses a challenge to our system of self-government. There is a real question whether this nation, which has spent 2OO years developing an intricate system of local, state, and federal governments to deal with public problems, will be bold, imaginative, and flexible enough to meet this supreme test. Our government has survived two world wars—but will it be adequate to cope with our own hell-bent drive to destroy our resources?"
I believe in the American way of life. We have a strong democracy—and its strength lies in the rights and freedoms we all enjoy. But, our democracy also demands responsibility from all its citizens.
My history professor said that America is a participatory democracy. I believe it is time that we Americans, in an earnest and responsible manner, begin to participate in the decisions wh1ch will determine the quality of our own lives and the heritage we leave our children.
Thank you.